Waterfront Restaurant - Cardwell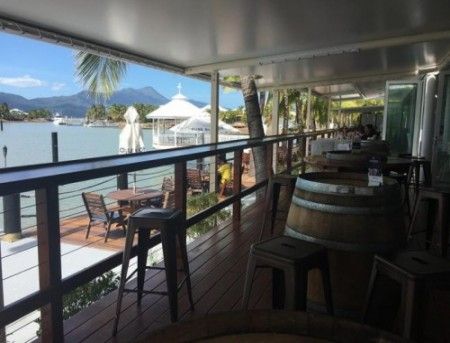 The Waterfront Restaurant is located at the Pt Hinchinbrook Marina in Cardwell. The restaurant boasts excellent views of the Marina and the food is always good. I play there quite often on a Sunday afternoon in the main bar. A few of the local Cardwellians drop in for a few beers and a chat and a good time is had by all. Also a lot of the customers are people out day tripping from Cairns and Townsville and all areas in between.
The Waterfront Restaurant is run by a young couple Lucas and Zoe they are very nice people and they do it very well.
Sometimes if you're lucky you can see a very impressive local sunning himself on the banks his or her name is "Fluffy" a 3 metre crocodile, and in all fairness Fluffy appears to be a friendly croc but I wont  be putting that theory to the test any time soon.
Saturday's and Sunday's there is live entertainment at the Waterfront Restaurant Pt Hinchinbrook Marina.