Weddings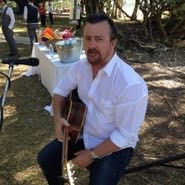 I am a solo singer/acoustic guitarist supplying wedding entertainment Airlie Beach, Townsville, Cairns, Magnetic Island, Port Douglas, Palm Cove, Mission Beach, and all points in between. Weddings are a big part of what I do and I enjoy playing at them. They are always a good night.
I am happy to play at the ceremony as well if you wish
I look at your wedding as being an all day event and I am just a weave in the tapestry of your special day. My job is to make sure things go as smoothly as possible at least from my end anyway.
---
Here are a few more popular songs Brides like me to play as they are walking down the aisle
Marry Me - Train
Smile - Uncle Kracker
Everlong - Foo Fighters
Bella - Angus and Julia Stone
Swing Life Away - Rise Against
You and Me - The Frey
Feels Like Home to Me - Edwina Hayes
---
Your wedding day is the one day both of you will remember for the rest of your lives together. The months of preparation that goes into that one special day, the photographer, the perfect venue, the menu, the flowers, make up artists,  suits and dresses, the celebrant, the list goes on You want it all to go off well.
I imagine after months of meticulous planning you will want to make sure you have fond memories of your special day for you and your guests to remember - not OMG! but who was that guy singing and playing guitar.. all night!.
---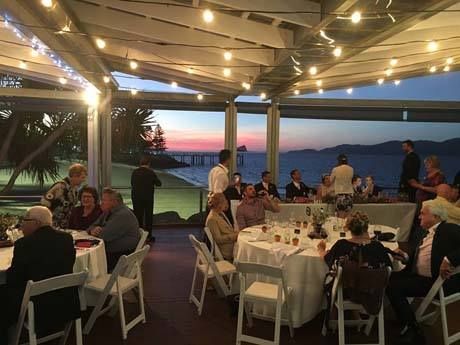 Picnic Bay Surf Life Saving Club Townsvile - Stephen and Chantelle's Wedding Day - July 15th 2018
Hi Paul,
Thank you so much for playing at our Wedding reception (and ceremony) at Boonaloo house Newell Beach. What a lovely evening it was too. Everybody loved your music and we would highly recommend you to anybody seeking a quality act for their wedding day.
Marie and Simon - May 19th 2018
---
Hey Paul,
Dave and I wish to say a big "Thank You" to you for playing at our wedding ceremony and reception at Sugar Wharf Port Douglas. I am not joking when I say, you playing at our wedding was my favorite part of the entire day. I absolutely loved what you did and your vocals are simply amazing!! Dave Grohl doesn't have a patch on you :)
Thank you so much for learning the song for our ceremony too! I loved walking down the aisle to you playing one of my favourite songs! Every single one of our guests had nothing but nice things to say about you and they wanted me to tell you what an amazing job you did as well
So from the bottom of our married hearts: THANK YOU!!! - Very very best regards Vera and Dave - Sugar Wharf Port Douglas. July 5th 2017
---
Hi Paul,
I just want to say a huge thank you. We absolutely had a blast at our wedding. Everyone commented on how good you were and what a difference it made to have such a great sounding acoustic guitarist at an outdoor wedding. Your repertoire of songs is fantastic. Thanks for helping make our Palm Cove wedding such a memorable experience.
Cheers Dave and Emily  - August 11th 2017. Nu Nu's Palm Cove
---
"Hi Paul, Thanks for playing for us at our wedding at Millers Bar and Grill Mission Beach on 30/8/14. You really set the atmosphere and everyone had a great night." - Jacqui and Brendan
27/8/15 - Hi Paul, Thanks for playing at our wedding at Little Beach in Pt Douglas. Your voice is amazing. The acoustic version of "Everlong" you played by the Foo Fighters was perfect as I walked down the aisle and everyone made mention of it! Thanks again :) Cheers Kimberley and Brett.
---
Kaitlyn and Anzac Kirks wedding on Dunk Island Sat 5th September 2015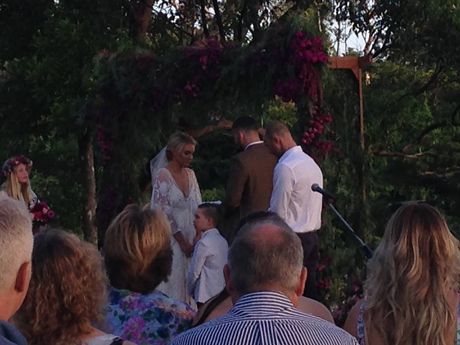 ---

© 2018 Paul Brennan